Michigan GOP may scrap 2024 primary for closed caucus. That could help Trump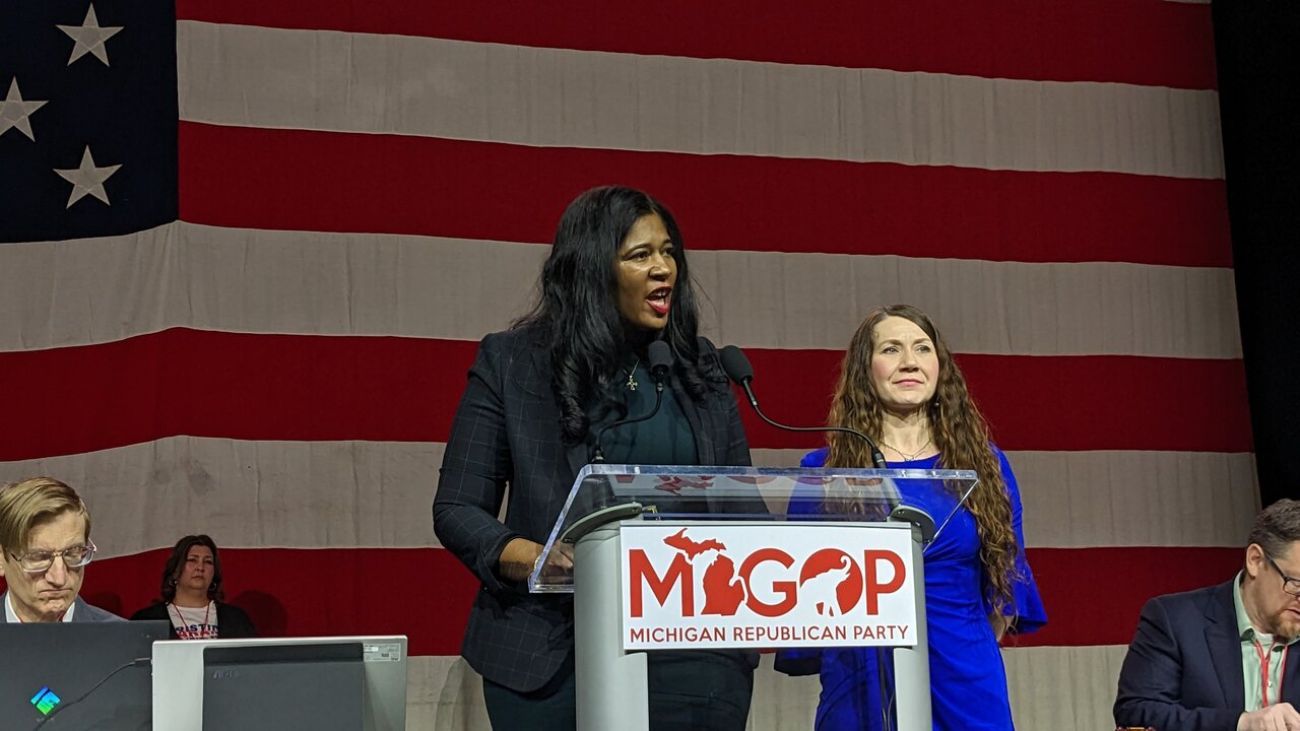 Chair Kristina Karamo says "all things are on the table" as Michigan Republican Party considers an alternative to a presidential primary election (Bridge photo by Jonathan Oosting)
Michigan Government
Michigan GOP may scrap 2024 primary for closed caucus. That could help Trump
Michigan GOP considering move to caucus for presidential race
GOP could face delegate penalty under Democratic primary date
A caucus could limit participation to 5,000 precinct delegates
---
LANSING –— The Michigan GOP may replace its 2024 presidential primary with a closed caucus or convention that would only allow precinct delegates or vetted Republicans to participate.
"Those discussions are happening now actively as we speak," state party Chair Kristina Karamo said last week, telling reporters that no decisions have been made yet.
The maneuvering comes two months after Democratic Gov. Gretchen Whitmer signed a law that anticipates moving up the state's primary election to Feb. 27.
Related:
That timetable clashes with Republican National Committee rules, which prohibit additional states from hosting contests before March. Violators like Michigan could lose the majority of their delegates to the Republican National Convention where the presidential nominee is determined.
"All things are on the table right now, because we want to ensure… that we don't lose our delegate strength at the RNC," Karamo said.
Michigan is one of 21 states with so-called "open primaries," contests in which any registered voter can choose to cast a ballot in either the Republican or Democratic primary.
Grassroots activists who control the Michigan GOP are pitching a plan for a series of county-level caucus meetings, where roughly 5,000 elected precinct delegates from around the state would convene in person on a single day to debate and help decide the party's presidential nominee.
Critics warn that moving to a closed caucus — or an even smaller nominating convention — could disenfranchise most of the 1.3 million Michigan voters who cast ballots in the state's 2016 GOP primary election, when businessman Donald Trump emerged from a crowded field and went on to win the general election.
Primaries are state-funded, while political parties must foot the bill for caucuses.
Karamo recently disclosed the state party is $460,000 in debt, and skeptics question the ability of the state party to keep the process from devolving into chaos, given the cash crunch, recent drama at county conventions and 2020 missteps in Iowa, where both major parties have long held presidential caucuses.
"It's outrageous because we'd be going from a method of awarding our delegates in which over a million Michiganders voted in 2016 to a method in which, in my county, about seven people would be allowed to vote," said Dennis Lennox, a Republican strategist from rural Cheboygan County in northern Michigan.
He argued a party-run caucus or convention would also likely benefit Trump because of his popularity among activists who were inspired to become precinct delegates and have dominated recent Michigan GOP meetings, including the February convention where Karamo won election as state party chair.
Karamo first publicly broached the idea of a presidential nominating caucus last month during remarks at a Muskegon County GOP meeting, where she touted a potential benefit: A caucus would keep Democrats from influencing the outcome by preventing them from crossing over to vote in the Republican primary.
The Michigan GOP's state central committee, which will meet this weekend for the first time of the year, will ultimately decide whether to stick with a primary or adopt an alternative plan, Karamo said.
"There's a lot of things up in the air," Karamo told reporters last week at a Midland County Republican Party event featuring Florida Gov. Ron DeSantis, who has not yet announced a presidential campaign but is viewed as a formidable challenger to Trump for the GOP nomination.
"Of course, it's an absolute new territory for us," Karamo said of a potential Michigan caucus. "We want to make sure we're making the right decisions before we actually speak on what we're going to do as a state party."
Among challenges facing the Michigan GOP is uncertainty over whether the date of the government-funded presidential primary will actually move to Feb. 27.
Michigan's new Democratic-controlled Legislature approved legislation moving the date up from the second week in March after their national party shook up its nominating contest calendar to make Michigan fifth among early-voting states.
But Democrats did not have a super-majority needed to enact the law immediately. To finalize the new primary date, the Legislature would need to adjourn by the end of November, forgoing any legislative action in December to clear a 90-day waiting period for the new law to take effect by late February.
A spokesperson for Senate Democrats on Monday declined to comment on year-end adjournment plans.
Regardless, Democratic pressure could give the Michigan GOP an excuse to move to a party-run caucus, which some Republicans have sought for years, said John Sellek, a campaign veteran and founder of Harbor Strategic Public Affairs in Lansing.
But he questioned the ability of the Michigan GOP to set up a functional caucus system in the next 11 months.
"When we look at the fact that the (Michigan) GOP doesn't even have a headquarters, it leaves you scratching your head about how they would even logistically pull that off," Sellek said, noting Karamo has tried to save money by not leasing the traditional Michigan GOP headquarters in Lansing.
"We just watched the state of Iowa that's been running these things for 407 years completely botch theirs and lose their place in line with the Democrats. It's not as easy as just flipping a switch and saying we're gonna run a convention or caucus."
'Potential downsides'
The Democratic calendar change was prompted, in part, by a disastrous 2020 caucus in Iowa, which had long enjoyed a first-in-the-nation status that allowed it to play an outsize role in the presidential nominating process.
Iowa had used a caucus system for more than a century, but Democrats there were reportedly tripped up by a faulty smartphone app that delayed results and contributed to disputed vote totals.
Iowa will still be first in line for Republicans next year, but the Democratic National Committee voted to begin its nominating contests with South Carolina, followed by New Hampshire, Nevada, Georgia and Michigan.
Presidential nominating caucuses were more prevalent in the past, functioning as an "intermediary" step in what has been a "historical shift was toward more participation by voters compared to party elites," said Matt Grossmann, director of the Institute for Public Policy and Social Research at Michigan State University.
Only a handful of states still use caucuses — at least one of the major political parties held caucuses in Iowa, Nevada, North Dakota and Wyoming in 2020, along with some U.S. territories.
There is significant procedural variety, both between states, and within them. One common denominator, research shows: Voter participation is far lower in caucuses than primaries.
In Iowa, Republicans use a caucus system that resembles traditional ballot voting, while Democrats use a "very physical process where you literally move to corners of the room" and then move again if your preferred candidate does not have enough support in early rounds, Grossmann said.
Under one Michigan GOP plan developed by grassroots activists and reviewed by Bridge Michigan, local precinct delegates would meet in their counties on the same night for caucus meetings, where activists would make "impassioned arguments" for their preferred candidates before any voting occurs.
Each county would then send delegates to a state convention, where the party would formally bind delegates to the winning presidential candidate.
Alternatively, activists have discussed the possibility of having a 30-day "caucus registration" period that would allow participation by Republicans who are not precinct delegates but might still be subject to some form of political vetting.
"I'm just trying to get the ball rolling on how to improve our process," said Shane Trejo, a former 11th Congressional District GOP chair who is developing the grassroots caucus plan and serves as executive director of the Grand New Party PAC.
"Grassroots Republicans have been against the idea of an open primary for a long time, thinking that allows Democrats and others to kind of play in Republican races," he said.
Technically, there would still be a Republican primary on the same day as the Democratic contest. But if the Michigan GOP held a caucus, it would instead use those results to allocate its presidential delegates to the national nominating convention.
Karamo last week acknowledged it is "important to consider" whether a closed caucus would disenfranchise voters who cannot participate, suggesting there are "potential downsides" to many of the scenarios the state party is now facing.
But limiting caucus participation could also "incentivize people to get involved as precinct delegates and become more active…in these roles that are so important," Trejo countered.
He also disputed claims a caucus format would unfairly favor Trump. "If it were a primary, it would also be between two people: Trump or DeSantis," Trejo said.
'Get it right'
John Rocha, a Barry County Republican who serves on the Michigan GOP's state central committee, said he supports the idea of a caucus and predicted it "will definitely come up" when members convene this weekend.
But it's "still early" in the planning stages, he said.
"We're not ramming down a square peg in a round hole," Rocha said. "We've got a malleable bit of clay here and we're saying, 'Look, there's a round hole, and we can squeeze it though in any which way that makes it more palatable. Let's talk and discuss and collaborate with each other to figure it out."
The Republican National Committee last year voted to retain its traditional presidential nominating contest calendar in 2024, with Iowa, New Hampshire, South Carolina and Nevada kicking things off. A Feb. 27 primary in Michigan would violate RNC rules prohibiting any other state from holding a primary before March.
Michigan Senate Minority Leader Aric Nesbitt, R-Porter Township, previously said Michigan could lose most of its delegates to the RNC convention, where the party's 2024 presidential nominee will be formally selected.
"We had 72 delegates in 2020, and we'd go down to 13 delegates next year," Nesbitt said in January as he opposed the Democratic proposal. "This legislation ... will, I believe, disenfranchise Michigan voters if left how it is."
But Lennox, the GOP strategist, said he doubts the RNC would actually follow through and penalize Michigan because the state may again be a critical battleground in the general election.
"If a Republican presidential candidate in 2024 wins Michigan, they are the next president of the United States," Lennox predicted. "And so you're going to penalize the state" for holding its primary three days before rules would allow it?
An RNC spokesperson declined to discuss the potential Michigan delegate penalty but pointed to a decision timeline: Under RNC rules, each state has until October 1 to inform the national party of its primary or caucus plans. The RNC would then issue any penalties by December.
Trejo, the grassroots organizer, told Bridge he thinks the Michigan GOP should "move forward with the caucus regardless of what the Democrats or the RNC does."
"We have a few months to make sure to study it and get it right before putting it into place," he said. "We shouldn't necessarily rush it through (but) try to make sure we get the best possible rules and bylaws proposal to put forward."
Only donate if we've informed you about important Michigan issues
See what new members are saying about why they donated to Bridge Michigan:
"In order for this information to be accurate and unbiased it must be underwritten by its readers, not by special interests." - Larry S.
"Not many other media sources report on the topics Bridge does." - Susan B.
"Your journalism is outstanding and rare these days." - Mark S.
If you want to ensure the future of nonpartisan, nonprofit Michigan journalism, please become a member today. You, too, will be asked why you donated and maybe we'll feature your quote next time!