Michigan State weighs security plan after rampage. Here are some options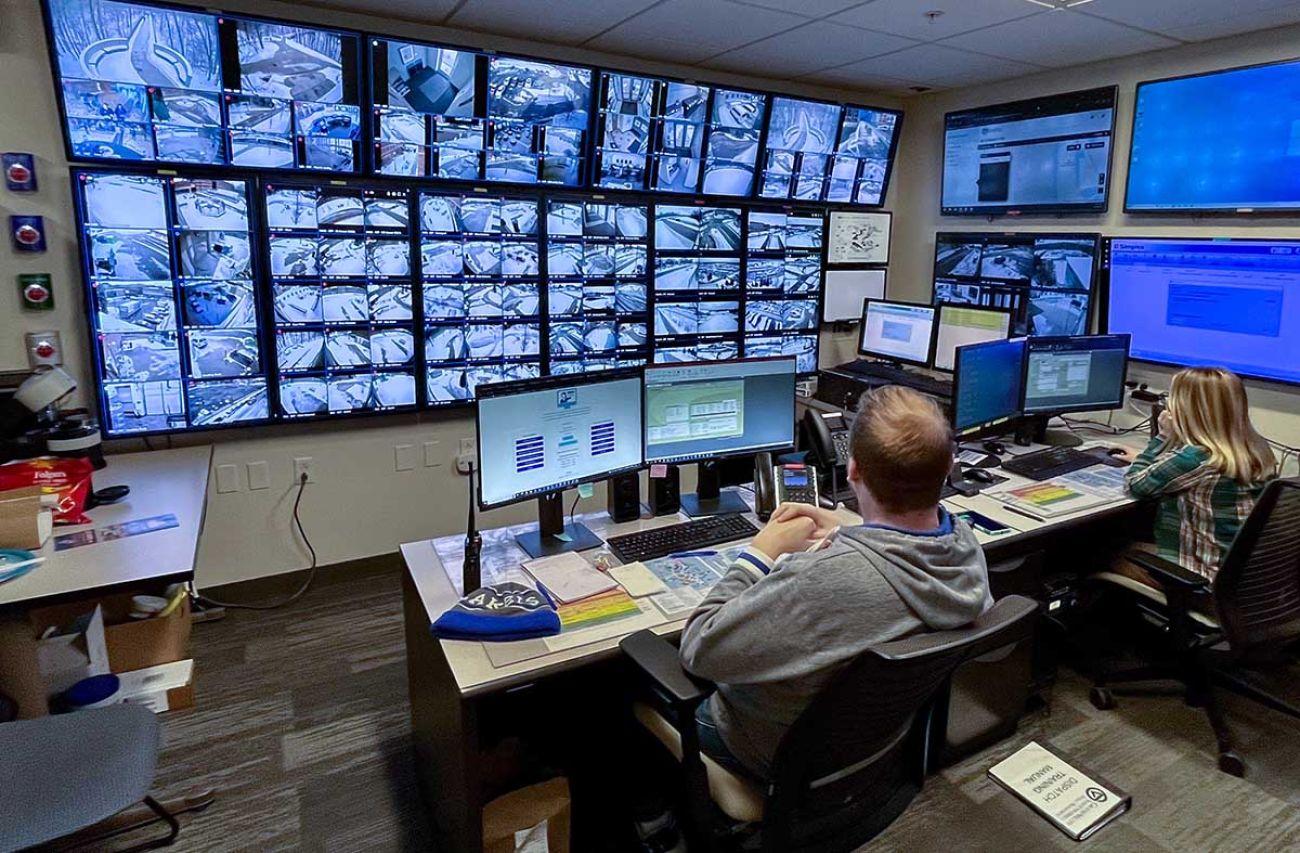 Grand Valley State University has a command center that watches security cameras on three campuses in real time, something Michigan State University hopes to have up and running in the near future. (Courtesy photo)
Just days after a mass shooting, Michigan State University officials are beginning a security review

Some colleges have more stringent physical security than MSU

Universities balance security measures with freedom and public access
---
EAST LANSING – There were no interior locks on the doors of Room 114 of Michigan State University's Berkey Hall, the room where Anthony McRae walked in on a classroom Monday evening and opened fire, killing two students and injuring several others.
Unlike K-12 schools, where decades of mass shootings have led to attempts to "harden" buildings from attack, classroom buildings at most colleges and universities are generally more accessible to the public. Reasons range from the large geographic footprint and number of buildings on campuses the size of Michigan State University, to philosophical stances that public universities are meant to be open and welcoming to the broader community.

Dispatchers at Grand Valley State University can lock the exterior doors of multiple buildings at the touch of one button. (Courtesy photo)
"What we do and what is acceptable from K through 12 is not necessarily acceptable when you get to the college level," Anthony Gentile, a professor at John Jay College of Criminal Justice told The New York Times earlier this week. "Frankly, anybody can drift onto one of the campuses and do what happened the other day."
Related:
There are, though, colleges that have ramped up security measures, ranging from locks on classroom doors to metal detectors to high-tech that can detect the shape of weapons or sound alerts when gunshots are fired.
The shooting spree that left three students dead and five critically wounded is likely to spark months of meetings evaluating campus security measures. Those meetings have already started — university officials met with at least one security consultant Thursday to begin talks about "ways forward" with campus safety.
Security consultants who spoke to Bridge Michigan predicted that any recommendations for increasing campus security will contain a cocktail of new technology and enhancements of current systems and protocols.
But while Interim President Teresa Woodruff said this week that "we can't let this happen again," security consultants cautioned that there are no security plans that can stop every mass shooting.
Here's a sampling of what steps some colleges and universities are taking to keep students and staff safe:
AI weapon detection
The University of Wisconsin's main campus in Madison is testing a system at building entrances that can detect concealed weapons or other dangerous objects using radar imaging and artificial intelligence. The system, called Hexwave, operates similarly to a metal detector, but the technology can also detect 3D printed weapons and plastic explosives, and also can be integrated into walls, according to Bill Frain, CEO of Liberty Defense, the company that manufactures Hexwave.
A University of Wisconsin official told The Cap Times the technology was being tested at sites of large gatherings like football games, where metal detectors are already in place.
Key Card building entry
MSU, like many colleges, has key card entries for dormitories. But the doors to other buildings, such as academic buildings, libraries and the MSU Union, are generally left open until late in the evening.
In the wake of the Michigan State shooting, Wichita State University said it plans to limit access to its academic buildings by requiring key cards for entry after 6 p.m. Doors to those buildings will remain open during the day, at least for now.
"We have about 70 percent (of campus buildings) on a key card system now," Kyle Garwood, captain at the Wichita State University Police Department, told Bridge Michigan. "This would be a good time to reevaluate that for security.
"But we always have to balance wanting to be a welcoming place that invokes thought. We want people to feel welcome here."
ID cards are required for all buildings at Lehigh University, in Bethlehem, Pa., but that is a school of just over 7,000 students and is private.
Eric Plummer, police chief at Radford University in Virginia, and a board member of the International Association of Campus Law Enforcement Administrators, said many campuses have moved to limit public access to all academic buildings, keeping them open during the day but restricting them to students and staff in off hours, like nights and weekends. He was chief at the University of North Dakota when they implemented a restricted access program campus-wide, making the change to over 50 buildings.
After the change, those who had access had to swipe a card, like they might do for their dorm, to get in.
If that change is incorporated into a unified security platform that brought together video surveillance and other elements of campus security like panic buttons, police could quickly lock every building on campus from a centralized location when there is an attack.
"You can get out, but you're not going to be able to get in," he said.
Classroom locks
Classroom doors in MSU's Berkey Hall have no locks on the inside, making it impossible to lock out an intruder if the university sends an active shooter alert. Barricades in front of the doors wouldn't work either, because the doors open out into the hallway.
Two instructors who were teaching Monday night in Berkey told reporters that they were forced to frantically improvise tools to hold their doors shut when violence erupted.
Tina Timm, associate professor in the school of social work, told the Lansing State Journal that when she heard gunshots down the hall, she pulled a laptop charging cord from her bag, tied it around the classroom door handle and tied the other end to a desk bolted into the floor.
Marco Díaz-Muñoz, an assistant professor language and humanities, told Bridge he was leading a class in Room 114 when the shooter, Anthony McRae, walked into the classroom and shot a number of students, two fatally. McRae then wordlessly walked out. But fearing he would then enter a second door into the room, Diaz-Munoz said he had to wrap his hands around the door handle and used his full weight to try to keep the shooter from being able to reenter.
It's not just Berkey. A Bridge reporter on Friday walked through the first and second floors of another academic building, Wells Hall, and found that classroom doors did not have interior locks and opened outward into the hallway.
Delanie Prince, a sophomore at MSU from near Flint, said she would like academic buildings and each classroom to have locks.
"I felt safer in my residence hall, because those doors lock automatically and all the exits are locked, and you have to have your Michigan State ID to scan into your hallway even. I don't know how he'd be able to get in here.
"But you can't lock classroom doors. I want locks on classroom buildings and classroom doors."
Grand Valley State University put interior, thumb-turn locks on all classroom doors in 2017 as part of a security upgrade. Chris Knape, director of university communications, said the locks were installed "to be proactive based on best practices and based on what we learned in the aftermath of other tragedies about ways we can make our campus safer and reduce risks."
In a WZZM report on security improvements at GVSU, in Allendale, Sgt. William O'Donnell of the GVSU Police Department said he was aware of only one case in the U.S. where an active shooter entered a school or university room that was locked or barricaded.
MSU Police Chief Marlon Lynch acknowledged at a news conference that MSU classrooms don't have interior locks.
"Our practice currently is to not help each and every classroom with mechanisms like that," Lynch said. "There are (a) couple of reasons not to, that's a discussion itself on the advantages, the pros and cons with that."
Lynch said, however, that door locks are likely to be part of MSU security review discussions in the coming months.
Live security video monitoring
MSU has more than 2,000 security cameras around campus, but as Bridge reported this week, no centralized, real -time monitoring of those video feeds. That will change in the coming months. The university is taking bids for companies that can integrate those video camera feeds into a centralized system.
A similar system is up and running at Grand Valley State University, with dispatchers monitoring feeds from more than 1,600 cameras over three campuses in one location, 24 hours a day.
Dispatchers can hit one button and lock exterior doors in various parts of campus.
California State-Fullerton has a similar system.
Lockdown kits
After a 2019 mass shooting at University of North Carolina-Charlotte that left two dead and four wounded, the school put lockdown kits in more than 700 classrooms. The kits include two devices that can be used to barricade a door.
The kits were distributed after a media report following the shooting noted that about half of the classroom doors on the campus did not lock.
Gunshot detection technology
The University of Maryland installed a new technology called ShotSpotter, which picks up on the sounds of gunshots and alerts the police automatically. The city of Detroit is using a similar system, where the effectiveness remains debatable.
Student report line
The University of Texas has what it calls BCAL, or a Behavior Concern Advice Line. Students can alert school officials by phone or online about students who they fear are in distress and could be dangerous.
The university receives about 900 reports via BCAL each year, ranging from students feeling depressed to fears someone is planning a shooting.
MSU spokesperson Dan Olsen told Bridge that university leaders are already meeting to review security on campus, and that more people will be brought into the process over time, including student leaders. Olsen described the review as "comprehensive and holistic."
MSU Police Chief Lynch said his department will "present options, and as we do we'll decide on how to proceed with physical security, police officer presence, potentially security officer presence, additional security systems. All of those will be part of that (discussion)."
Jason Russell, a parent of an MSU senior and president of Secure Education Consultants in Grand Rapids, told Bridge he was asked by university officials to meet with them Thursday to talk about "ways forward" on campus security. Russell told Bridge he cautions against looking for a single solution to address campus safety.
"Everyone wants a gadget they can hang on the wall" to demonstrate commitment to security, Russell said. "You can put all the physical security in place you want, but a motivated offender can find their way around it.
"We look at these situations and say, 'We can't let it happen again.' But there are no easy solutions."
Russell said he recently met with legislators in Texas struggling with the same issue. He recommended an "all systems approach," that addresses "mental health, access control and training."
Universities also face the challenge of balancing security with public access, said Dan Hurley, CEO of Michigan Association of State Universities, which represents the state's 15 public universities.
"Expenses aside, it does draw the question to what extent we want to close these important aspects of our society in the name of security," Hurley said. "This (violence) is a scourge that affects all of society."
Echoing those thoughts was Brendan Cantwell, MSU associate professor of higher, lifelong and adult education. Cantwell told Bridge that an institution like Michigan State University shouldn't be asked to solve a societal problem like gun violence and mental health.
"I think MSU's organizational response is not the most critical question," he wrote this week, after the shooting, in Substack. "The question is why organizations are expected to be prepared for mass violence.
"The mass shooting at Michigan State University was heartbreaking, horrific, and terrifying. But what happened at MSU was completely normal in the United States of America."
Only donate if we've informed you about important Michigan issues
See what new members are saying about why they donated to Bridge Michigan:
"In order for this information to be accurate and unbiased it must be underwritten by its readers, not by special interests." - Larry S.
"Not many other media sources report on the topics Bridge does." - Susan B.
"Your journalism is outstanding and rare these days." - Mark S.
If you want to ensure the future of nonpartisan, nonprofit Michigan journalism, please become a member today. You, too, will be asked why you donated and maybe we'll feature your quote next time!